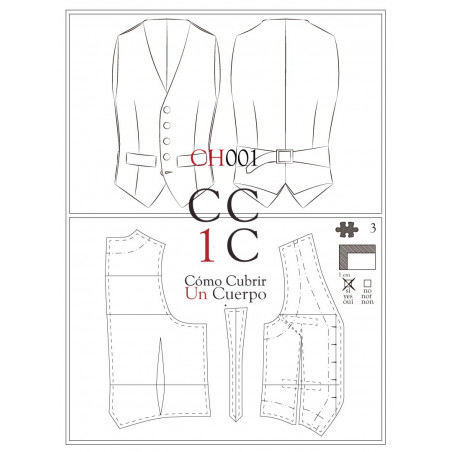  
Waistcoat CH001
VAT included
Delivery: 24/48 hours
Waistcoat, five buttons with an adjustable waist tab.

Términos y condiciones
The pattern includes 1 cm of stitching. The discontinuous lines mark the seamless pattern and the position of the pockets.
The facings are marked by a dashed line (-.-)
The armhole's dart (narrow discontinuous line) is for developed chest conformation. You must close the armhole's dart after open breast one in the pattern. If the client has not conformation, forget the dart.
The straight grains are perpendicular to the waist and chest line. In the pieces where these lines do not exist, it is marked with a double arrow.
Pattern available for European sizes 42, 44, 46, 48, 50, 52, 54, 56, 58, 60. And for three back lengths.